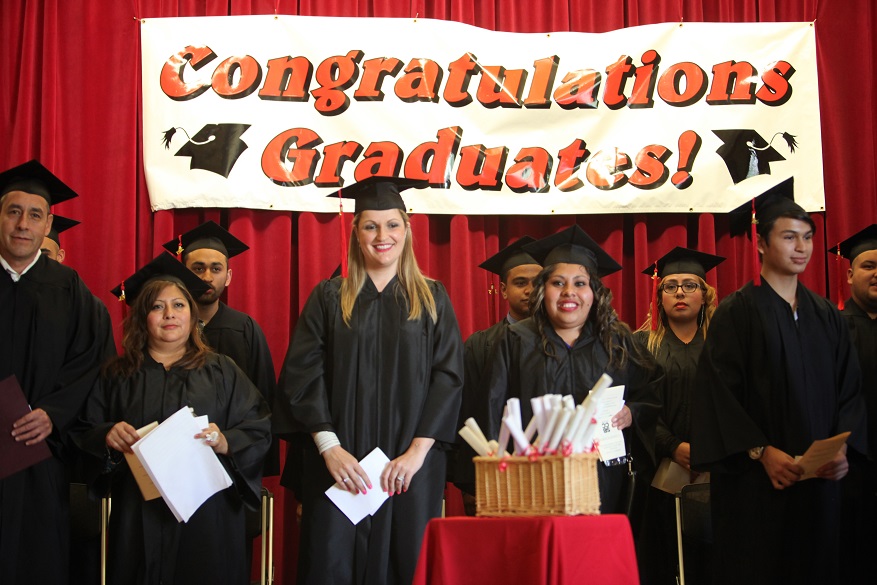 Adult High School and GED
Fall 2022 classes will be offered via online, Zoom video conference, hybrid and face-to-face formats. For current class information, click the class list buttons below.

In-person services updates: Click here> Schott and Wake Front Office Hours

SPECIAL NOTICE: If you passed the GED after January 2, 2002, please request assistance from the following website:
http://www.gedtestingservice.com/testers/gedrequest-a-transcript
ADULT HIGH SCHOOL
The Adult High School (AHS) Diploma Program is designed for adults who want to earn their high school diploma. Students meet with an advisor to create an individual learning plan, and work one-on-one with faculty and in small groups with other students. Subjects include reading comprehension, vocabulary and grammar, spelling, writing, mathematics and other subjects.
Credit towards our high school completion program can be transferred from other accredited high schools or colleges. We offer free* classes, student support services such as transcript analysis, assessment, orientation, registration support, academic advising/counseling and career counseling and a flexible class schedule. Class hours are listed in this schedule.
Our program is approved through the state of California Community College Chancellor's Office. Santa Barbara City College is fully accredited by the Commission for Community and Junior Colleges, which is part of the Western Association of Schools and Colleges (WASC). The College is also approved by the California Department of Education. Print and fill out the Application for Admission form.
For more information or to schedule an appointment with an advisor prior to registration, please call the Student Services office at the Schott Campus: 805-898-8160.
*All classes in ESL and AHS are tuition free. In accordance with State and Federal Law, no fees shall be charged for classes in English and citizenship or elementary subjects.
GED®
GED exam preparation classes are designed for students who are 18 years of age or older who wish to earn a high school equivalency certificate. Students are given instruction in the basic skills needed, and have the opportunity to take practice tests that will help them successfully complete all GED exams. Classes are offered both daytime and evenings. GED exam preparation classes are also offered bilingually (Spanish/English).
For more information or to schedule an appointment with an advisor prior to registration, please call Student Support Services at the Schott Campus: (805) 898-8160.
GED® EXAM
You can take the GED exam on a computer at the Santa Barbara City College Schott Campus Community Technology Center, room 16. Testing times at Schott for Fall 2022 are:

October:
Friday, October 21st, 2022.
Saturday, October 22nd, 2022.
November:
Friday, November 4th, 2022.
Saturday, November 5th, 2022.
Friday, November 18th, 2022
Saturday, November 19th, 2022
December:
Friday, December 2nd, 2022
Saturday, December 3rd, 2022
Friday, December 17th, 2022.
Saturday, December 18, 2022.
The GED exam consists of four subject areas: Math, Science, Social Studies, Reading/Language Arts (writing)
You will need to receive 145 points on each of the four exams, for a total of 580 points, to earn your GED certificate. Each exam costs $35, payable online with a credit or debit card, or agency voucher, for a total cost of $140. The GED exam is offered the first three Saturdays of the month, 9:30 a.m.-3:30 p.m.
Register for the GED exams online at: www.ged.com.
For information about taking the exam in Spanish, technical assistance with online registration, retesting policy, creating an account to get your scores and transcript requests, see, www.sbcc.edu/extendedlearning/files/GED-exam.pdf.
For general GED questions call (805) 898-8153.
FACULTY
Patricia Mautone
Mariah Messer
Bridget Harrington
Claudia Johnson
For Extended Learning admission and registration guidance please click here.
For Noncredit Students Services, please click here.
If you are a student that is ready to transfer to credit classes, please click here.